Garden Design
The Garden Construction Co are a well established garden and landscape design company offering a comprehensive garden design and build service throughout the Lothians, Central Belt, and Perthshire. Contact David on 07958995739, email- info@garden-co.com. Quotes are free and without obligation.
As an example, here is a project we designed and built for a client in the Grange area of Edinburgh.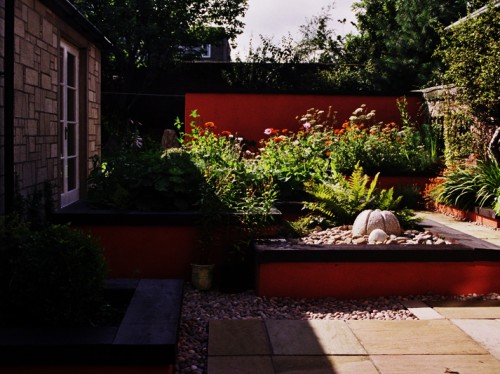 Raised beds with water feature to front centre bed with home office extension and patio doors to upper left.
The customer had an old paved backyard with washing lines strung across which she wanted to transform into a striking low maintenance garden to compliment her new home office extension, as the garden patio area would now be visible through the glass patio doors. The gravel to front of beds and to water feature give a good textural contrast to the smoothness of the rendered walls and compliment the colour of the paving. The "bubble" pond to front bed sits on top of a water reservoir with a pump and the carved circular stone sits on top with the water bubbling through a centrally drilled hole running down the sides of the stone and back into the reservoir underneath the pebbles. This provides an interesting water feature and the gentle sound of the bubbling water echoes nicely creating a relaxing atmosphere.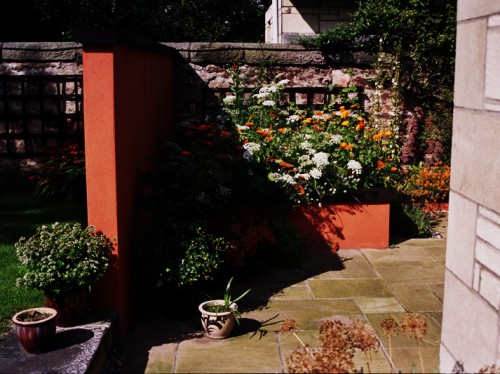 Rendered block wall to screen patio garden , forming a stop to patio and remaining informal garden area.
The walls and raised beds are all built from rendered concrete block which was then painted.The copings to the top of the walls are formed from timber which has been stained to a dark brown. The wall colour was chosen by the client and was inspired by the colour of walls she had seen on Tibetan Buddhist Temples. It was a bold choice that worked very well.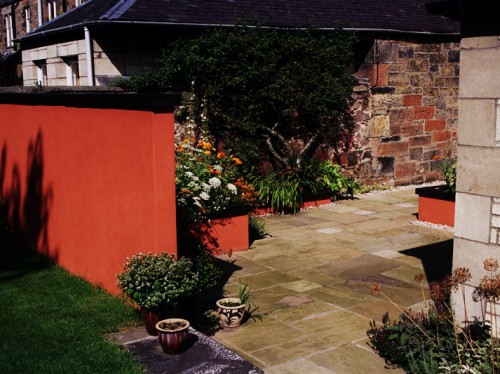 The herbaceous planting scheme compliments the orange walls and the white gives a good contrast. The paving to the patio area is natural sandstone to match the walls of the Victorian property.The slabs are layed in random sizes with mortared joints. The paving is called Fair Stone and is supplied by Marshalls, you can see more here.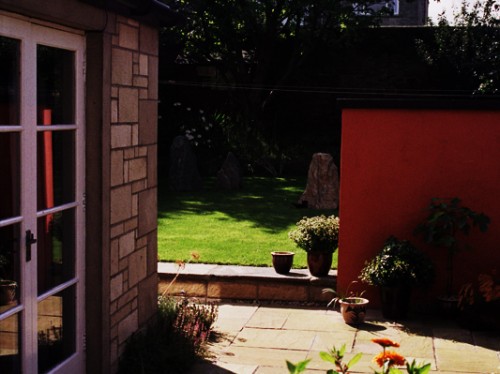 Three standing stones visible to rear of picture on newly laid lawn.
To the back of the garden we laid a new lawn with turf supplied by Rolawn. We also installed granite standing stones sourced from Tradstocks, Stirlingshire, again, inspired by the gravel gardens in Buddhist temples. Notice the washing line is now in the garden and not over her lovely new patio area! Whirly gigs for clothes really are the bane of my life from a design perspective as they often seem to form [unintentionally] a central feature to a garden. The solution here was a retractable washing line that returns into a spring-loaded drum which was purchased from John Lewis.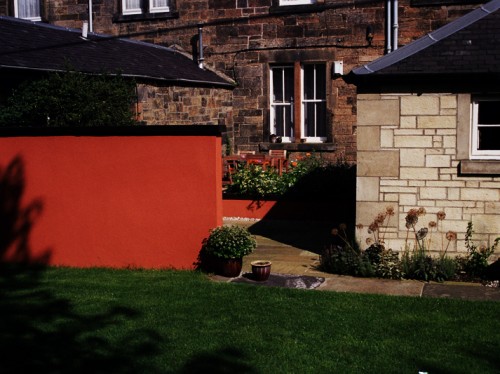 Another customer in Edinburgh required decking. The wall forms a screen to the patio area.
Timber Decking to patio doors – the deck is set to the internal floor level so when the doors are opened there is continuity to the internal and external spaces giving the deck a feeling of another outside room whilst enhancing the wooden flooring to the kitchen dining room.
Timber sleeper steps with stone inlays leading to upper terrace of garden
Rendered concrete block walls – this area was excavated to give an outside space to newly converted dining/kitchen dayroom, originally it was at height of new wall to 1 metre from house.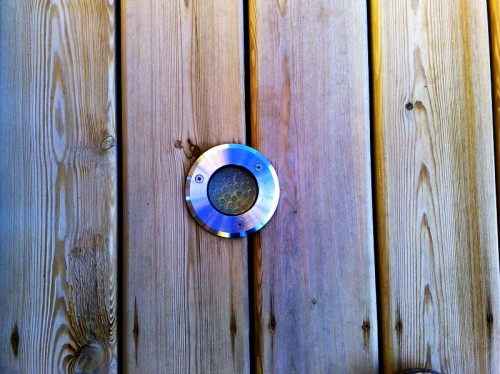 Here's a picture of l.e.d. (light emitting diode) with durable stainless steel rim inserted into deck. The lights are 12 volt so are entirely safe and relatively easy to fit and cost less than 240 volt lighting. L.e.d lighting lasts a lot longer than standard electrical bulbs so you don't have the hassle of changing them every few months also they don't heat up so you can walk over them. The light is ambient and one like this would require numerous lights to give the right effect, they are commonly supplied in loops of six or more and come in various colours – white or blue being the most common as they give a good quality of light. Set under a pot plant they make a great uplighter, highlighting the foliage of architectural planting such as Phormium, Bamboo or Palms.
Here is a lovely pond that the Garden Construction Co built for a customer in the Sciennes area of Edinburgh. Note the use of a bamboo cane for the water-spout, very zen. Yes I know it's a cliché but… it works, nice and simple. Can you see the birdie? Mmmm. Ornamental accessory as provided by client. More great landscaping from the Garden Construction Co, Edinburgh. Landscapers Extraordinaire.
Here is another project that we worked on for a client in Edinburgh.
Raised beds, concrete block rendered and painted white. The planting is Photinia Red Robin, which when mature will form a delightful low maintenance hedge screening the decking from the road.
Timber decking – redwood pine. Note the l.e.d lighting to the raised beds to shine across decking surface at night.
Timber steps leading up to decking area with door to side to access under deck storage area, The step treads have graphite inlays to make them non-slip.
Photinia Red Robin forms a pleasing hedge as the newly formed leaves are red and the mature leaves are green. It is easily maintained like privet, and offers a great alternative to standard hedging.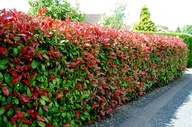 The picture above shows an example of a mature Photinia Red Robin hedge forming dense and compact foliage giving excellent screening for privacy.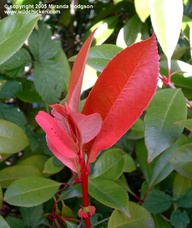 The picture above shows the red emergent immature leaf which turns green after a month or so.
Rendered concrete raised beds offer a great alternative to stone. They cost less, are durable, and bring a contemporary aesthetic to garden designs.
I hope you found this post for Garden Construction Company blog interesting and informative.
Contact David on 07958995739, e-mail info@garden-co.com for a free, no obligation quote.
Thanks
David